Ladies Dormitory, Men's Dormitory & Mixed Dormitory
***This apartment is non-smoking.(建物内禁煙)
Living in a dormitory room in Tokyo and save money.
29'600 JPY including utilities. Internet is free.
Ladies- & mixed dormitory (riverside building), mens dormitory (backside building) Each dormitory room has 2 bunk beds for 4 people.
You can move anytime from the mixed dormitory to the ladies- or mens dormitory.
You can also move to a private room and -> Click for further information


Newly Open! Ladies dormitory C room ( for 4 Women)!
The room is shared by 4. But there are many use many common rooms to use: TV-room, Computer room/library, huge garden with garden cottage.
You can have a quite gorgeous life with lowest cost. You can even have breakfast in the flower garden.


The lower bunk
The lower bunk(left)
The lower bunk(right)
The top bunk
The top bunk(left)
The top bunk(right)
storage
Entrance
Rent fee

Short Stay Plan -> Short Stay.pdf

*1 Free wireless internet
*2 Deposit is half refundable (In Monthly case, half of deposit will be charged as check-out-charge)
Four people in a room (2 bunk beds). Shared sink, shared fridge/freezer. Separated storage space for each person .
# 99% lightproof curtain around every bed
# Air-conditioner + heating
# Reading lamp to each bed with bookshelf.
# 200Mbps High-speed Internet WiFi use
# High ceiling ( enough height between mattress and ceiling)
# Under the bed is a storage box.
# Large-sized Freezer + Refrigerator.
# Storage box also in the kitchen for each person.
Shared facilities
shared facilities
Kitchen,TV room,PC room,Library,
Laundry,Shower and toilets,
Available, Balinese cottage in front of the center flower garden,
Free Interenet (Wi-Fi) ,
Shared computer :PC free of charge. Available, parking space for cars (15,000yen/month) free for bike
others
Shower (20yen/3min), Air-conditioner (100yen/5hours),Laundry (150yen/)
Non-smokers only(喫煙者入居不可)
Train line(s)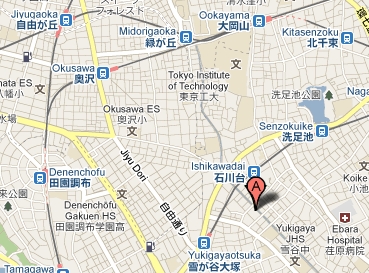 location:
Ota-ku Minamiyukigaya 1 chome
Tokyu Ikegami line
'Ishikawadai' Sta. - 4min. walk
-----------------------------
supermarket 3 mins ,convenience store 1 min,
public bath 3 mins,
and many restaurants and local stores.
cleaning shop 2 mins, sport gym 6 mins,
library 14 mins
.
Railway Map